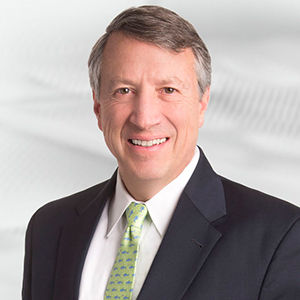 Bio
John Sheehan has specialized in the practice of environmental law and litigation for over 30 years, serving as lead trial counsel in some of the nations' largest environmental cases. For over 13 years at the United States Department of Justice's Environment and Natural Resources Division and at the U.S. Environmental Protection Agency's General Counsel's Office, John led trial teams and government workgroups in numerous high-profile cases and regulatory matters.
John has extensive background in state and federal water and wastewater quality issues, as well as experience in the energy and natural resource sectors. John has represented drinking water and wastewater trade associations and other industry clients in environmental litigation, regulatory enforcement actions, and transactional counseling related to key environmental statutes including cases under the Clean Water Act, the Clean Air Act, and the Comprehensive Environmental Response, Compensation, and Liability Act (CERLA), the Endangered Species Act and National Environmental Policy Act.
John's litigation experience is unique for an environmental litigator. While many environmental cases are resolved at the motions stage or settle prior to trial due significant litigation risks involved and thus many environmental litigators have not tried cases to verdict, John has tried numerous jury trials to verdict. John has also played a lead role in major federal environmental litigation including leading trial teams involving some of the largest and most complicated cases in U.S. history, such as the Deepwater Horizon litigation arising out of the massive oil spill in the Gulf of Mexico and cases involving environmental cleanups and liabilities arising from the federal government's war time activities during WWII and the Vietnam War. John is a seasoned litigator having tried or argued cases in state trial courts, state appellate courts, federal district courts and federal circuit courts of appeal.
John's experience also includes being a partner at highly-regarded international law firms as well as being a partner at a boutique environmental law firm focusing on water issues.
Recently, John was awarded a National Law Journal 2020 Plaintiffs' Trailblazer award for his work with water related clients seeking compensation for damages caused by PFAS chemicals. John continues to counsel clients on PFAS issues and is nationally recognized for his depth of experience on this issue.
John received a Special Achievement Award from the U.S. Department of Justice, as well as a Special Merit Award from the U.S. Environmental Protection Agency, Office of General Counsel.
John is a prolific writer and speaker on environmental litigation and regulatory challenges and related trends. He has served as an Executive Committee Member of the U.S. Chambers of Commerce's Business Task Force on Water Policy.
John received his BA in American Studies from Georgetown University (1980), and his JD from Georgetown University Law Center (1984), where he was a member of the American Criminal Law Review. John is a member of the bars in Washington, D.C., Maryland, and Pennsylvania.
Experience
REPRESENTATIVE MATTERS AND SUMMARY OF EXPERIENCE

I. PRIVATE PRACTICE (2004 - PRESENT)

A. Select Cases and Matters Handled
Represented the State of Florida in lawsuit against BP and other companies responsible for the oil spill in the Gulf of Mexico to recover natural resource damages suffered by the State of Florida resulting from the Deepwater Horizon disaster.
Defended several large municipalities in enforcement actions brought by EPA alleging unlawful combined sewer overflow violations.
Represented trade associations of municipal water and wastewater agencies in regulatory matters and filed amicus briefs in cases raising issues of importance to associations.
Defended major energy company in enforcement action brought by state government alleging unauthorized selenium discharge from coal ash landfill.
Defended major landfill company against allegations of unauthorized stormwater violations and achieved favorable settlement with EPA.
Secured water supply permit from the State of Wisconsin for large foreign corporation seeking water from Lake Michigan for manufacturing operations in Wisconsin.
Represented State paper industry trade group on regulatory matters before state environmental agency.
Defended chemical company on charges of RCRA violations brought by EPA regional office.
Represented multi-national alumina company with large docket of legacy mining sites and coordinated strategies to resolve remediation and liability issues with governmental and private parties.
Obtained defense verdict for individual client after two-week civil jury trial alleging client had defamed former business partner.
B. Select Recent Speeches and Articles
"Parched Oystermen, Farmers Face Off in High Court Water War," Bloomberg Law, February 18, 2021.
"Biden Likely to be More Aggressive on PFAS, but Extent of Plan Unclear." Inside EPA, January 4, 2021.
"PFAS Litigation 'Second Wave' Ahead if Biden Delivers New Rules," Bloomberg Law, December 8, 2020.
"Coronavirus Slowing PFAS Testing, Cleanup Efforts Across U.S.," Bloomberg Law, April 20, 2020.
"3M PFAS Deal With Wolverine Could Foreshadow Other Cases," Bloomberg Environment, February 20, 2020.
Moderator of American Water Works Association Workshop "PFAS: New Frontiers of Law, Regulation & Policy" Chicago, December 2019.
Executive Committee Member of the U.S. Chambers of Commerce's Business Task Force on Water Policy, 2018-2019.
National Association of Clean Water Agencies (NACWA), Trends in Environmental Enforcement, Kansas City, 2016.
NACWA Conference, CSO Consent Decree Negotiations, Philadelphia, May, 2015.
8th Annual Oil and Gas Law Colloquium, Pittsburg July, 2016.
NACWA Annual Law Conference, Emerging Trends in Federal Environmental Enforcement, Las Vegas, 2015.
II. UNITED STATES DEPARTMENT OF JUSTICE ENVIRONMENT AND NATURAL RESOURCES DIVISION (1991-2004)

Summary of Experience:
Trial attorney for 13 years in Environment & Natural Resources Division.
Selected to serve as senior trial attorney to head trial teams in litigation.
Presented argument in numerous federal district courts throughout the county on various motions including motions for summary judgment.
Presented oral arguments in cases before United States Courts of Appeal.
Selected to serve a special detail to EPA's Office of General Counsel to provide expertise in litigation by tobacco industry against EPA.
Selected to serve a special detail to the Assistant Attorney General's Office to coordinate major wetlands policy initiative for Department of Justice.
Major Reported Cases:
Crutchfield v. U.S. Army Corps of Engineers

Served as lead trial counsel for the Corps of Engineers in litigation before the U.S. District Court in Richmond, Va., challenging a wetlands permit to build a sewage treatment plant in Henrico County, Va. Successfully defended the Corps' permitting process in case involving numerous evidentiary hearings. District court opinion reported at 230 F. Supp.2d 673 (E.D. Va. 2002); Fourth Circuit opinion reported at 325 F. 3d 211 (4th Cir. 2003).

Flue-Cured Tobacco Inc. v. Environmental Protection Agency.

Represent EPA in landmark challenge by tobacco industry to EPA report classifying secondhand smoke as a known human carcinogen and other challenges to EPA's indoor air program. Served as co-counsel on case with one other Department of Justice attorney. Opinion by district court in North Carolina reported at 4 F.Supp.2d 435 (1998). Fourth Circuit Court of Appeals decision reported at 313 F.3d 852 (4th Cir. 2002).

United States v. Vertac

Lead trial counsel for the United States in successfully defending claims by large chemical companies alleging United States liability under CERCLA for dioxin contamination from Agent Orange manufactured for the Vietnam War. The successful result in this case established important precedent for the United States and has limited the federal government's liability for exercising its regulatory and war-time powers. Reported at 841 F. Supp. 884 (1993). Upheld on appeal in the Eighth Circuit, 46 F.3d 803 (1995).

Sierra Club, et. al., v. Environmental Protection Agency

Lead trial counsel for the United States in case brought by environmental groups challenging EPA's activities with respect to its role in overseeing the State of Maryland's compliance with the Clean Water Act requirement to establish maximum allowable pollutant loadings for Maryland's most heavily polluted waters. One of first cases in the county to reject claim by environmental groups seeking to have EPA take over a state TMDL program. Decision reported at 162 F. Supp.2d 406 (D. Md. 2001).

Davis County, et al., v. Environmental Protection Agency

Represented EPA in challenge by industry to final rule regulating municipal waste combustors promulgated under the Clean Air Act. Prepared brief for the agency and presented oral argument before the United States Court of Appeals for the District of Columbia Circuit. Initial decision by Court reported at 101 F.3d 1395 (D.C. Cir.1996). Decision granting petition for rehearing reported at 108 F.3d 1454 (D.C. 1997).

Northwest Environmental Defense Center, et al., v. Corps of Engineers.

Lead trial counsel for Corps of Engineers in defending its decision to issue a section 404 Clean Water Act permit to fill wetlands to allow the Hyundai Corporation to construct a 1.3 billion dollar semiconductor fabrication plant in Eugene, Oregon. Very controversial case which was strongly contested by several environmental groups in the Northwest. Represented the Corps of Engineers at preliminary injunction hearing. The district court upheld the Corps' issuance of the permit. The Ninth Circuit affirmed.

Conservation Law Foundation v. United States Air Force and Environmental Protection Agency

Lead trial counsel for the United States in first major challenge brought by environmental groups to the proposed reuse of a military base closed pursuant to the Base Closure Act. United States prevailed on key Clean Air Act and CERCLA issues. New Hampshire district court opinion reported at 864 F. Supp. 265 (1994). First Circuit opinion at 1996 WL 138063.

Ciba-Geigy v. Environmental Protection Agency

Represented EPA in case before the Second Circuit Court of Appeals in New York. Owner of paint pigment production facility in New York challenged EPA's decision to issue federal permit and refusal to terminate federal permit once the State of New York received authorization to administer solid waste regulations. Prepared brief and presented argument in case. Favorable opinion reported at 3 F.3d 40 (1993).

Virgin Islands Water and Power Authority v. United States

Represented United States in suit brought in the Court of Federal Claims under the Clean Water Act seeking to recover costs incurred cleaning up oil discharged from facility on St. Croix during Hurricane Hugo. Company brought suit against the Coast Guard seeking $7.4 million in damages. After discovery of a claim for reimbursement on behalf of the Federal Emergency Management Agency, case was settled by company paying the United States $1.25 million. Procedural opinion in case reported at 30 Fed.Cl. 236 (1994).

Maxus Energy Corporation v. United States

Lead trial counsel in suit brought in district court in Texas by major chemical company seeking to hold the United States liable under CERCLA for its role in the production of Agent Orange for the Vietnam War. Relying on the precedent set in Vertac, referenced above, the court granted summary judgment in favor of the United States just prior to the start of trial. Case reported at 898 F. Supp. 399 (1995).
Contact