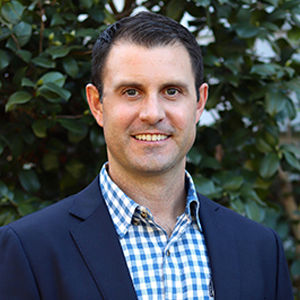 Bio
Brendan McGinnis serves as Chief Operating Officer of Earth & Water Group.  Based in Washington, DC, his career has been extensively active in the water resources and sustainability sectors, with a strong proficiency in convening, managing complex projects, facilitating government affairs, conducting stakeholder outreach, and directing business and organizational development.  He supports his clients' goals by applying his knowledge of regulation, policy, and markets with a practical understanding of the governmental agencies, companies, and NGOs that shape and drive environmental outcomes.
Brendan also co-founded THG Advisors in 2008 with former U.S. EPA Acting Administrator, Marianne L. Horinko.  He launched the firm's Water Resources Policy, Development & Sustainable Communities Group, supporting clients on several of the nation's largest waterway restoration initiatives, including the Lower Passaic, Lower Fox, and Kalamazoo Rivers.
Brendan began his career with the Global Environment & Technology Foundation, where he worked directly with the federal government managing a portfolio of domestic and international sustainability efforts, including the Global Water Challenge, U.S. Agency for International Development's Powering Health Initiative, and the Green Highways Partnership in support of U.S. EPA Region 3.

Brendan received his Master of Business Administration and B.A. in Business Administration from Southern Illinois University.
Experience
Presentations and Speaking Engagements
Conference Chair,

The Future of Transboundary Water Management – Cooperation, Informed Decision-Making, and Empowering Local Actors,

THG Advisors 2017 Summit, Washington, DC, October 12, 2017
Speaker, Annual Earth Science Application Showcase, NASA DEVELOP, Washington, DC, August 10, 2016
Moderator,

U.S. National and Local Water Challenges

, Jewish National Fund Water Summit, Washington, DC, June 30, 2016
Producer,

Great Lakes, Rivers and Gulf Inter-Unit Research Consortium Scoping Effort

, National Great Rivers Research and Education Center, East Alton, IL, March 29-30, 2016
Producer,

A&WMA/EPA Colloquium – Waste Information Exchange

, Washington, DC, May 14, 2015 
Speaker, Rotary Hands Across Waters Program, Rotary Club of Coral Springs-Parkland, FL, February 24, 2015
Speaker,

Addressing the Middle East Water Conflict

, Mason Water Forum, George Mason University, Fairfax, VA, October 6, 2014
Contributor,

Transforming America's Contaminated Lands – A Vision of Our Nation's Waste Program,

THG Advisors 2013 Summit, Washington, DC, November 7, 2013
Speaker, Entrepreneur and Leadership Class, College of Agriculture, Urban Sustainability, and Environmental Sciences, University of the District of Columbia, Washington, DC, October 7, 2013
Plenary Speaker, "

Can Water Help Lead the Way to Peace

," 2013 J Street Conference, Washington, DC, September 30, 2013
Speaker, DC Intellectuals, Washington, DC, September 18, 2013
Speaker,

Middle East Water and Peace-Building

, Elliott School of International Affairs, The George Washington University, Washington, DC, September 14, 2013
Speaker, Water Resources Action Project, Rotary Club of Washington, DC, Washington, DC, September 4, 2013
Speaker,

Middle East Water Conflict

, Global Understanding Convention, Monmouth University, West Long Branch, NJ, April 9, 2013
Speaker,

U.S. Water Resources Policy to Chinese Water Ministry

, American Water Resources Association, Washington, DC, November 6, 2012
Producer,

The Next Generation of Environmental Compliance and Enforcement

, THG Advisors 2012 Summit, Washington, DC, October 17, 2012
Facilitator,

Financing Water Infrastructure through Public-Private Partnerships – Finding the Right Model

, THG Advisors Roundtable, Washington, DC, April 30, 2012
Contributor,

Greening Our Nation's Backyard – Green Infrastructure, Low Impact Development, and Sustainable Landscapes

, 2011 GOVgreen Conference Panel, Washington, DC, November 30, 2011
Conference Chair,

Sustaining Our Nation's Water Resources – Answering the Call for Stewardship

, THG Advisors 2011 Summit, University of Maryland, College Park, MD, October 25, 2011
Producer,

The Next Farm Bill Salon – New Opportunities for Environmental and Agricultural Sustainability

, THG Advisors Roundtable, Washington, DC, March 15, 2011
Producer & Speaker,

Engaging the Public for River Sustainability and Livable Communities,

THG Advisors Roundtable,

National Great Rivers Museum, East Alton, IL, October 25, 2010
Producer & Speaker,

Networks, Coalitions, and the Role of Social Capital in Water Resources Management

, THG Advisors Roundtable, Washington, DC, August 31, 2010
Producer,

Water Managers and Decision-Makers Salon – Searching for Synergy

, Washington, DC, June 15, 2010
Producer,

Sustaining Our Nation's Water Resources – Connecting Leaders Across Watersheds

, THG Advisors 2010 Summit, Washington, DC, April 13, 2010
Producer,

Corporate Sustainability

, THG Advisors 2009 Summit, Washington, DC, January 14, 2009
Producer,

Global Environment Facility Fourth Biennial International Waters Conference

, South Africa, July 31, 2007, Cape Town, South Africa
Producer,

Mid-Atlantic Green Highways Forum Executive and Plenary Session

, University of Maryland, College Park, MD, November 8, 2005
Publications
Contributor,

The Future of RCRA – Making the Business Case

, THG Advisors, December 2016
Contributor,

The Role of Green Infrastructure – Nature, Economics, and Resilience

, Prepared for Conservation Leadership Council, November 2015
Contributor,

The Role of Public-Private Partnerships in Meeting a Community's Water and Wastewater Needs – A Primer for Public Officials

, Prepared for the National Association of Water Companies, January 2015
Contributor,

The Rise and Future of Green and Sustainable Remediation

, THG Advisors, February 2014
Author,

The Long Slog – What Lies Ahead for the Financing of Our Nation's Inland Waterways Infrastructure

, American Water Resources Association IMPACT Journal, January 2014
Author,

Peace Building in the Middle East – Let's Begin with Water

, Conserve Fewell, January 2014
Co-Author,

Proposed Public-Private Partnership Project for U.S. Inland Waterways Infrastructure, Financing, Operations, and Governance

, Prepared for the U.S. Soybean Export Council, December 2013
Co-Author,

Hydraulic Fracturing – Guidebook on the Current and Future Environmental, Regulatory, and Legal Challenges

, THG Advisors, October 2012
Contributor,

Energy, Environment, & Politics in 2012: Expectations and Prognostications for the Next Four Years

, American Bar Association, Section of Environment, Energy, and Resources, October 2012
Author,

Clean Water Act and the Need for Certainty

, THG Advisors, August 2011
Author,

Early Impressions from a Water Resources Management Practitioner

, THG Advisors, March 2011
Co-Author,

Promoting the Sustainability of Our Nation's Water Resources – A Launching Device to Demonstrate Early Outcomes

, THG Advisors, January 2011
Co-Author,

Making the Popular Case for Water Resources Sustainability – The Role of Storytelling and Social Networkers

, THG Advisors, August 2010
Co-Author,

Powering Health Guidebook: Electrification Options for Rural Health Centers

, Prepared for the U.S. Agency for International Development, November 2007
Contributor,

Carbon Capture and Sequestration: Legal and Environmental Challenges Ahead

, Prepared for the American Public Power Association, August 2007
Contributor,

Options Report for the U.S. EPA's Urban River Restoration Initiative Pilots and the One Cleanup Program

, Prepared for the U.S. EPA's Office of Land Revitalization, April 2007
Contributor,

Water and Wastewater Project Finance Training Course Modules

, Prepared for the International Center for Environmental Finance, September 2006
Contributor,

Going Green with U.S. Highways

, Prepared for the Green Highways Partnership, Research & Technology Transporter, March 2006
Professional and Community Involvement
Founder, Board Advisor, and former Executive Director, Water Resources Action Project (2009 – Present) 

Vice Chair, Communications, Waste and Resource Recovery Committee, ABA Section of Environment, Energy, and Resources (2018 – Present) 

International Executive Committee, Rotary Hands Across Waters (2014 – 2019)  

Senior Advisor and Past Chair, International Services Committee, Rotary Club of Washington, DC (2013 – Present)

Contributor and Peer Reviewer, IMPACT Journal, American Water Resources Association (2014 – 2016) 
Professional Experience
COO, Earth & Water Law Group, 2019 – Present

Principal, THG Advisors, 2008 – Present

Project Manager, Global Environment & Technology Foundation, 2005 – 2007
Contact