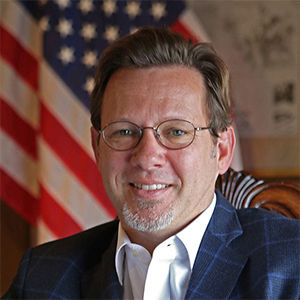 Bio
Earth & Water Group Founder, Brent Fewell, has over 25 years of experience in public policy, advocacy, and environmental law.
As an environmental lawyer and former corporate executive and senior U.S. EPA official in EPA's Offices of Water and Congressional and Intergovernmental Relations, Brent brings a wealth of knowledge and unique perspective to his clients in navigating the regulatory and political arenas in Washington DC. As a highly regarded thought leader on environmental policy and governance matters, his counsel and opinions are sought out by corporate and government leaders around the globe. Brent brings unparalleled energy and passion to the issues in a way that few do to help his clients navigate in an increasingly complex and nuanced regulatory environment.
Brent received his B.S. in Wildlife Management from the University of Maine (high distinction), a Masters in Environmental Management from Duke University, and J.D. from Duquesne University School of Law. (Licensed in PA and DC)
Experience
Brent got his professional start as a environmental scientist in Raleigh, NC where he prepared NEPA documentation (EIS/EA/FONSIs) for his construction clients and helped others with obtaining Section 404 and 402 CWA permits. He went on to join McLaren/Hart Environmental Engineering in Pittsburgh, PA where he focused on EHS compliance auditing, transactional due diligence, and the cleanup of contaminated Brownfields and CERCLA sites.
Prior to Earth & Water, Brent served as the Principal Deputy Assistant Administrator in U.S. EPA's Office of Water in Washington, DC (2004-2007), where he oversaw the nation's drinking water and surface water programs.  During that time, he also served as the Acting Associate Administrator for the Office of Congressional and Intergovernmental Relations where he helped manage the agency's relationship with members of Congress and state and local leaders. He subsequently served as the Sr. Vice President for Environment, Health & Safety at Suez Environnement where he managed day-to-day regulatory compliance for SE's U.S.-based subsidiary, United Water.  Brent has practiced law at Jones Day, Hunton & Williams and, most recently was a Partner with the law firm of Troutman Sanders.
Over his career, Brent has been involved in some of the nation's largest environmental cleanups and significant matters arising under CERCLA and the Clean Water Act, including complex civil and criminal investigations, cost-recovery, permit challenges and appeals, policy development and rule-makings. He has been deeply involved in helping to establish and advise his clients on emerging environmental markets to promote environmental restoration. As a former corporate executive, Brent advises his clients on corporate governance, enterprise liability management, compliance programs, auditing and internal investigations, and sustainable practices to manage reputation and brand identity. Brent serves on a number of boards, including the Wine to Water, a non-profit committed to providing global access to clean water to those in need, the American Conservation Coalition, and the Earth Stewardship Alliance. In 2012, Brent also established the blog, www.conservefewell.org, to promote conservation and change the political dialogue on environmental stewardship.
Presentations and Speaking Engagements
Speaker, The Journey Toward Effective Compliance, Dallas, TX, Oct. 12, 2016.
Speaker, Addressing the Challenges of Aging Water Infrastructure:  The Road Forward, Eco SXSW Sustainability Conference, Austin, TX, Oct. 11, 2016.
Moderator, Moving Forward Public-Private Partnerships, National Association of Water Companies, Annual Conference, San Diego, CA, Oct. 4, 2016.
Moderator, Role of Public-Private Partnerships in the Water Sector, P3 Joint E&W and Reason Foundation Roundtable, Staff Briefing, U.S. House of Representatives, Sep. 26, 2016.
Speaker, Conservation 2.0: Regulations Alone Won't Fix a Broken Earth, Sand County Foundation, Innovations on the Land Conference, Santa Barbara, CA, Aug. 9, 2016.
Speaker, Financing Total Water Solutions in the 21st Century, American Water Works Association, ACE Annual Conference, Chicago, IL, June 21, 2016.
Speaker, From Worker Safety to Volkswagen and Flint: Enforcement Trends and Compliance Tips, E&W Roundtable, Washington DC, June 9, 2016.
Speaker (webinar), The Failure of Cooperative Federalism in Flint Michigan: Implications for EPA Oversight, National Association of Clean Water Agencies, Hot Topic Series, March 16, 2016.
Speaker, "Redefining 'Waters of the U.S.': What Are the Implications?", 14th Annual Georgia Water Law and Regulation, February 27, 2015.
Moderator, P3's and Private Capital in the Water Sector:  Moving the Ball Forward, GW University, Feb. 18, 2016.
Speaker, "Redefining 'Waters of the U.S.': What Are the Implications?", 14th Annual Georgia Water Law and Regulation, February 27, 2015.
Speaker, "Innovations in Public-Private Water Infrastructure", The American Bar Association's Section on Environment Energy and Resources, January 15, 2015
Presenter, "Water Trading: New and Emerging Opportunities to Improve Water Quality at Reduced Costs," Bloomberg BNA Webinar, November 13, 2014.
Speaker, Mission H2O Annual Meeting, "Potential Impact of Recent Spills in WVA and NC on Federal and Virginia Regulatory Program," June 2014.
Facilitator, "The Northwest Experience with Water Quality Trading for Compliance", U.S. Water Alliance, Washington D.C., April 8, 2014.
Testimony Of Brent Fewell, on Behalf of the National Water Quality Trading Alliance, Before The Subcommittee On Water Resources and Environment of the Committee on Transportation and Infrastructure, U.S. House Of Representatives, March 2014.
Testimony Of Brent Fewell, on Behalf of United Water and National Association of Water Companies, Before the Senate Environment and Public Works, Subcommittee on Water and Wildlife, U.S. Senate, February 2014.
Interviewed, National Public Radio (NPR), "Drinking Water Not Tested for Tens of Thousands of Chemicals," January 24, 2014.
Speaker, Water and Wastewater Policy Forum on Capitol Hill, presentation on status of international water aid, Jan. 2014.
Presenter, How to Manage a Compliance Program During a Complex Criminal Enforcement Matter, presentation to CEEC, Dec. 2013.
Speaker, American Bar Association, Section of Environment, Energy and Resources, presentation on status of EPA water policies and regulations, Oct. 2013.
Speaker, National Auditing Roundtable, Fall National Meeting, "Learning from the Best", presentation on compliance auditing, Oct. 2013.
Speaker, American Water Works Association, Annul Conference, presentation on removing barriers to water innovation and innovation financing, June 2013.
Speaker, Horinko Group, Fourth Annual Summit, The Next Generation of Environmental Compliance and Enforcement, Oct. 2012.
Speaker, Environmental Council of States, "Future of Water Infrastructure Financing," Aug. 2012.
Speaker, Water Infrastructure Summit, Leveraging Data to Create a Paradigm Shift from Reactive to Proactive Utility Management, May 2012.
Presenter, Horinko Group, Executive Salon, "Financing Water Infrastructure through Public-Private Partnerships: Finding the Right Model," April 2012.
Presenter, Clean Water Act at 40, George Washington University Law School Symposium, Role of Private Water Infrastructure, March 2012.
Speaker, National Auditing Roundtable, Annual Conference, "Rethinking the Role of Environmental Counsel in Environmental Auditing," Jan. 2012.
Speaker, Horinko Group, Annual Summit, "The Business of Water," presentation on water asset management and benefits of public private partnerships, Oct. 2011.
Speaker, U.S. Conference of Mayors, Taking Community Action on Pharmaceuticals and Personal Care Products in Public Water Supplies, Oct. 2011.
Speaker, Symposium on Water and Economics, presentation to the Water Policy Institute, Oct. 2009.
Speaker, Clean Water Regulations: Federal Regulatory Trends Affecting NPDES Holders, presentation to the Southeastern Electric Exchange, Annual Conference, June 2008.
Speaker, Federal Regulation of Water Transfers, presentation to the Federalist Society, Birmingham, Alabama, Chapter, April 2008.
Speaker, Carbon Capture & Sequestration: Options for Risk Mitigation, presentation to Gasification Technologies Council, Feb. 2008.
Speaker, West Virginia 2008 Annual Mining Symposium, presentation on Section 404 Wetlands Jurisdiction post-Rapanos, Jan. 2008.
Speaker, The Clean Water Act: is it applicable to water transfers?, presentation to the Western Water Law Conference, Sep. 2007.
Testimony Of Brent Fewell, Principal Deputy Assistant Administrator For Water, EPA, Before The Subcommittee On Energy and Mineral Resources of the Committee on Resources U.S. House Of Representatives, Good Samaritan Clean Watershed Act (S. 2780 and H.R. 5404), July 2006.
Over 50 speeches and keynote addresses on various water issues while at EPA, Sep. 2004 - March 2007.
Speaker, Legal Ramification of TMDLs and Watershed Policies, presentation to the Pittsburgh Section of American Society of Civil Engineers, Environmental Water Resource Institute, Nov. 2003.
Speaker, Pitfalls of OSHA's Hazard Communications . . . You Think You Comply But OSHA Does Not, presentation to the 12th Annual Ohio OSHA Conference, Oct. 2002.
Speaker, Status of DEP's Wellhead Protection Program, presentation to the Air & Waste Management Association, Jan. 2001.
Speaker, What is DEP's Wellhead Protection Program?, presentation to the Allegheny County Bar Association's Environmental Law Section, Nov. 1999.
Publications
Author, "Encouraging Greater Compliance Requires a Change in the Status Quo", Law & Water Opinion, Journal AWWA, September 2016.
Author, "Fewell's Focus: Markets & Bold Action," Water & Wastes Digest, Online, November 6, 2015.
Author, "Fewell's Focus: Carrots & Sticks," Water & Wastes Digest, Online, September 11, 2015.
Contributor, "Trading to achieve compliance cost effectively", World Water Stormwater Management, World Environment Federation, April/May 2015.
Co-Author, BNA Insights, Water Law & Policy Monitor, "Water Quality Trading to Help Accelerate Restoration of U.S. Impaired Waters," July 24, 2014
Co-author, Environmental Compliance and Commitment From the Top, Corporate Counsel, March 17, 2014.
Co-author, Elements Affecting the Water Sector of Water Quality Trading – Point Sources and Nonpoint Sources, Chapter 2 of Water Quality Trading, WEF, Feb. 2014.
Quoted, Water and Wastes Digest, "Transparent Waters," September 2013.
Co-Author, WaterWorld, "Water Company Implements Information Management System," September 2012
Quoted, WaterWorld, "Economy Weighs Heavy on Municipal Water Market," April 2011.
Quoted, Ecosystem Marketplace, " Dual Lawsuits Threaten Innovative Water Quality Programs Across U.S.," March 2011.
Author, Point-Counterpoint, Repairing the Clean Water Act. Federalist Society. Engage, Vol. 10, Issue 2, July 2009.
Co-Author, Navigating EPA's Vessel Discharge Program, Federalist Society, Engage, Feb. 2009.
Co-author, Water Quality Trading for Municipal Authorities, Water Environment & Technology Vol. 19, No. 10, Oct. 2007.
Co-author, NEPA Scope of Analysis in the Federal Permitting Context: The Federal Tail that Risks Wagging the Non-Federal Dog, Engage: The Journal of the Federalist Society's Practice Groups, Volume 8, Issue 3, June 2007.
Author, EPA's Water Quality Trading Policy -- Is a positive step for the environment, The Legal Intelligencer, April 2003.
Author, Environmental Consultants Accountable to the Law, Feature Article in the Zephyr, Allegheny Mountain Section of the Air & Waste Management Association, April 2002.
Author, Up a Dirty Creek Without a Paddle: getting your pollution budget to pass the bar, The Legal Intelligencer, April 2002.
Author, What Can Be Expected From Whitman's EPA? EM Magazine, April 2001.
Author, DEP's TMDL Program -- A Watershed Event, PBA Environmental, Mineral and Natural Resources Law Section Newsletter, March 2001.
Author, Federal Government Loses Authority to Regulate Millions of Acres of Private Property: A review of the U.S. Supreme Court's SWANCC decision, White Paper, Feb. 2001.
Author, Who Will Win in 2000: Gore, Bush . . . the Environment? EM Magazine, Sep. 2000.
Author, EPA Promotes Total Maximum Loading Initiative, The Lawyers Journal, July 2000.
Author, Decision Could Limit EPA's Power Over States: Eighth Circuit holds EPA exceeded authority for "overfiling," The Lawyers Journal, Dec. 1999.
Author, PA's Growing Greener Initiative Pledges $1.3 Billion: Ridge proposes "smart growth" to counter urban sprawl, The Lawyers Journal, July 1999.
Author, EPA Approves Pennsylvania's Wellhead Protection Program, The Lawyers Journal, June 1999.
Professional and Community Involvement
Board of Directors, The Alliance for the Chesapeake Bay (Sep. 2015 – present)
Board of Directors, Wine to Water (Oct. 2015 – present)
Editorial Writer, Water and Waste Digest (April 2015 – present)
Board of Directors, U.S. Water Alliance, and Chair of Business Advisory Council (Feb. 2010- Oct. 2015)
Board of Directors, Water Resources Action Project (2014-2015)
Senior Contributor to Water World's Advisory Committee (2010-2014)
Co-chair, The Federalist Society, Environmental Executive Committee, Wetlands and Endangered Species Subcommittee (2002-present)
  Professional Experience 
Earth & Water Law, Chairman and Founding Partner, 2016-present
Partner, Troutman Sanders LLP, 2014-2016
Senior Vice President, Environment, Health and Safety and Chief Environmental Officer, United Water Inc., 2009-2014
Counsel, Hunton & Williams LLP, 2007-2009
Principal Deputy Assistant Administrator, Office of Water, U.S. Environmental Protection Agency, 2004-2007
Associate, Jones Day LLP, 1998-2004
Law Clerk to Federal Magistrate Judge Francis X. Caiazza, United States District Court, Western District of Pennsylvania, 1997-1998
Contact