By Stan Parker
Law360, New York (April 12, 2016, 4:14 PM ET) —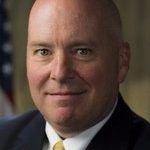 The former director of the U.S. Environmental Protection Agency's criminal enforcement division will be joining several other former EPA officials at a new group that focuses on pairing strategic consulting with legal services for environmental law issues.
Earth & Water Group LLC announced Monday that Doug Parker, a 24-year EPA veteran, will be joining the company as president of its strategy consulting arm, Earth & Water Strategies LLC, which works in tandem with its legal side, Earth & Water Law.
"We understand the environmental space, and how to best navigate it from a public policy and a government perspective," Parker told Law360 on Tuesday.
He said the focus of his work at Earth & Water Strategies will be helping clients navigate new and impending regulation, as well as providing advice on how to prevent environmental catastrophes and deal with them when they happen.
This position puts Parker on the other side of problems that he spent years investigating as a special agent for the EPA, and later coordinating investigative efforts from EPA headquarters.
Once responsible for investigating wrongdoers for environmental crimes that led to disasters like leaks and spills, now he said he'll focus on helping companies come into compliance so they can prevent environmental crises and respond appropriately if they do occur.
Parker oversaw criminal investigations that followed in the wake of the catastrophic Deepwater Horizon oil spill in the Gulf of Mexico and coordinated those efforts with civil enforcement officials, he said.
He also pointed to other recent prosecutions he saw as final accomplishments during his time at the EPA, including two major convictions for renewable fuels fraud cases.
Last month, a Texas federal judge sentenced the owner of several fuel and biodiesel companies to just more than 10 years in prison and ordered him to pay more than $87 million in restitution and forfeit $51 million for running a scheme to sell fraudulent biofuel tax credits.
And in January, a New Jersey man who admitted to illegally collecting millions in fraudulent biofuel tax credits through his two biofuel companies was sentenced to 20 years in prison and ordered to pay $56 million in restitution.
Earth & Water Group was started earlier this year by Brent Fewell, an environmental lawyer who once worked as a senior U.S. EPA official in the agency's water office as a George W. Bush appointee.
"We are thrilled to have Doug join our team to lead and help grow E&W Strategies," Fewell said in a statement. "Doug has a long and distinguished career in environmental enforcement and will provide enormous depth to the services we offer our clients."