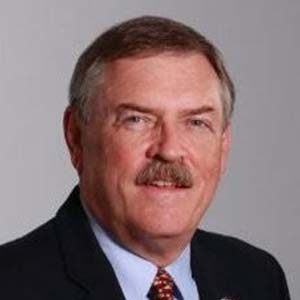 Washington, D.C., January 5, 2022 – Earth & Water Law, LLC (E&W Law) announced today the addition of Charlie Carter to the partnership. Charlie has over 40 years of experience in the practice of environmental law with major national law firms and serving in senior leadership government roles on environmental regulatory matters spanning four decades. Prior to returning to North Carolina private practice, Charlie served for nearly 10 years at the U.S. EPA in Washington, D.C., where he was Associate Director of the Office of Congressional and Intergovernmental Relations, Assistant General Counsel in the Office of General Counsel, and Chief of OGC's National Standards Branch. Prior to his service at the U.S. EPA, Carter served as staff environmental attorney for Duke Power Company and Environmental Law Advisor for the Edison Electric Institute.
In July 2021, Charlie was appointed to a third 4-year term on the North Carolina Environmental Management Commission and for nearly two decades has been recognized as a leader in the practice of environmental law with his inclusion in the Best Lawyers in America.
"We are thrilled to have someone of Charlie's distinction and caliber join our legal team. His deep knowledge of the regulatory environment impacting business will be a tremendous resource for our clients in the Southeast and nationally," said Brent Fewell, Founder and Chair of E&W Law. "I'm pleased to be joining E&W Law and look forward to supporting the firm's continued expansion of its environmental practice nationwide,'' said Carter. Carter represents a broad range of clients before federal, state, and local agencies on environmental, regulatory and legislative matters, concentrating on permitting, rulemaking, compliance, and enforcement on air, water and land use, solid and hazardous wastes, toxic substances, and coastal management. He also writes and speaks frequently on these subjects.
Prior to law school, Carter earned a Bachelor of Science in Engineering at Duke University and served as a Design Engineer for the Sperry-Rand Corporation. He's admitted to practice in North Carolina, Washington, D.C., U.S. Supreme Court, U.S. Courts of Appeals for the District of Columbia and Fourth Circuit, and U.S. District Courts for the Eastern, Middle and Western Districts of North Carolina and Washington, D.C.
Headquartered in Washington, D.C., E&W Law offers its clients a unique business model with the experience and skill of a traditional law firm, but without the costly overhead. The firm offers expertise that lies at the intersection of legal and strategic business counseling, help its clients stay ahead of the ever-growing legal and regulatory challenges facing all companies, regardless of their size or location.
Earth & Water Law, LLC
Tel: 202.280.6362
Email: Charlie.Carter@earthandwatergroup.com
Earth & Water Law (www.earthandwatergroup.com) is headquartered in Washington, D.C.