For Immediate Release April 11, 2016
Contact: Brent Fewell
202-664-9297
brent.fewell@earthandwatergroup.com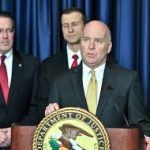 Earth & Water Group, a full-service virtual environmental solutions provider, today announced the expansion of its management team by naming Doug Parker as the President of Earth & Water Strategies LLC, effective April 18, 2016.
"We are thrilled to have Doug join our team to lead and help grow E&W Strategies," said Brent Fewell, Chairman of Earth & Water Group. "Doug has a long and distinguished career in environmental enforcement and will provide enormous depth to the services we offer our clients."
Parker joins E&W Strategies, the consulting arm of Earth & Water Group, after 24 years of service with the U.S. EPA as a special agent – most recently as Director of the agency's Criminal Investigation Division (CID) where he was responsible for setting EPA's investigative direction and leading its environmental crimes enforcement program. While leading CID, Parker worked closely with EPA's civil enforcement program, the U.S. Department of Justice, the FBI, the Department of Homeland Security, and various state law enforcement and environmental agencies in carrying out the nation's environmental enforcement priorities.
"I am truly excited to join the E&W team, and look forward to bringing my expertise to the challenges that organizations face in this increasingly complex space," said Parker.
E&W Strategies works in tandem with Earth & Water Law to solve policy and operational challenges and identify new opportunities for its growing portfolio of corporate, institutional, eNGO and municipal clients in such key areas such as government affairs and public policy, EH&S compliance, internal investigations, risk and crisis management, and project finance.
Earth & Water Group (www.earthandwatergroup.com) is headquartered in Washington, D.C.
# # #