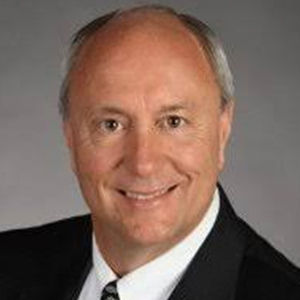 Bio
Ken Komoroski has 30 years experience in the practice of environmental and energy law, including 26 years in private practice with major global law firms. Prior to attending law school, Ken worked for a Fortune 100 company for its chemical division operations as an environmental engineer, supervisor, regulatory expert and also as a foreman for a wastewater treatment unit at a very large chemical production facility. As an attorney, Ken has represented a variety of industries, including steel, chemicals, coatings, wood treating, fossil-fuel power generators, wind power, glass, oil refineries and oil and natural gas production and transmission. Ken was directly involved with all aspects of shale gas development, beginning in 2004 when the first Marcellus Shale well was drilled. He also served ten years as a Federal Commissioner for the Ohio River Valley Water Sanitation Commission (ORSANCO), a Presidentially appointed position, and ultimately served as ORSANCO Chairman.
Ken is a graduate of the Pennsylvania State University (B.S. Environmental Engineering). After his eight-year career with a major chemical company, Ken attended and graduated from the University of Pittsburgh School of Law. Ken is admitted to practice in Pennsylvania, West Virginia (currently inactive), Ohio (currently inactive) and the District of Columbia (currently inactive).
Experience
After working as an environmental engineer and supervisor for a major chemical company, for the past thirty years Ken's law practice has concentrated in matters involving air, water, waste, land use, brownfields matters and other environmental and energy topics under the Clean Air Act, Clean Water Act, Resource Conservation and Recovery Act, Safe Drinking Water Act (among others) and the analogous state regulatory programs in nearly every EPA Region and in thirty-eight states. He has extensive experience with these issues over a wide range of industries, including steel, chemical, natural gas/NGLs/oil production and transportation, electric power generation and transmission (fossil fuel, hydroelectric and wind), property development, fiber optic cable systems, coatings, wood treating, glass, coke and coal tar, financial institutions (including fund advisors) and others. Using his technical background and experience, Ken is a demonstrated problem solver focused on business solutions for project development and for manufacturers, producers and suppliers in response to possible enforcement and EPA multi-media audits. He has also handled dozens of civil and environmental appeals litigation matters and has represented several companies on environmental criminal matters. Ken has assisted on media inquiries and as spokesman for companies on hundreds of occasions and has worked closely on development of new statutes, regulations and local ordinances. Ken has been recognized as a leader in the practice of environmental and energy law in Chambers USA, Super Lawyers, Best Lawyers in America, and Who's Who in Energy. He has spoken on environmental and energy subjects to industry groups, regulators and in many public forums.
Contact